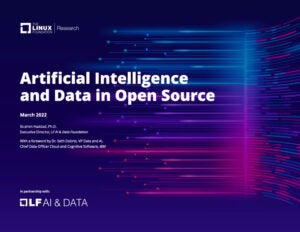 The LF AI & Data Foundation, the organization building an ecosystem to sustain open source innovation in artificial intelligence (AI) and data open source projects, is announcing the release of an editorial by the Executive Director, Ibrahim Haddad, Ph.D., titled, "Artificial Intelligence and Data in Open Source – Challenges and Opportunities for Mass Collaboration at Scale." This paper reviews critical challenges in the open source AI ecosystem, discusses common characteristics across AI and data projects, and presents the role of the LF AI & Data Foundation in empowering innovators and accelerating open source development. The abstract is below, and you can find the entire report here: https://linuxfoundation.org/tools/artificial-intelligence-and-data-in-open-source/
Abstract
Over the past two decades, companies have adopted open source software (OSS) across multiple industries and technology verticals. This phenomenal enterprise adoption of OSS has increased (1) the use of open source in products and services, (2) levels of contributions to existing projects, (3) the creation of projects fostering collaboration, and (4) the development of new technologies. How did we get here? Simply put, more of us realized that collaborating on common enabling technologies was the fastest path to better and more cost-effective software solutions than any organization could deliver on its own.
Today, more leading-edge software development occurs inside open source communities than ever before. Proprietary projects have increasing difficulty keeping up with the rapid pace of development that open source achieves. 
Artificial intelligence (AI) is no different from any other technology domain; OSS dominates. In this ecosystem, we can identify over 300 critical open source projects offering over 500 million lines of code, contributed by over 35,000 developers who work side by side to advance the state of technology in an open, collaborative, and transparent way. The characteristics of the open source model make it ideal for cooperating on enabling technologies regardless of domain or industry. 
Thank you to all who contribute to our mission here at LF AI & Data. Your engagement helps maintain a vibrant and productive ecosystem. 
LF AI & Data Resources